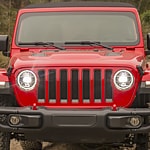 The 2020 Jeep Wrangler is a mid-size SUV. It has four-wheel drive. This vehicle is fuel-efficient. It can get up to 29 MPG. This vehicle is ideal for long trips because you will be able to enjoy the great outdoors while you drive. Additionally, there are a lot of features that you will be able to enjoy.
You will be able to soak in the sun as you enjoy your drive because this vehicle has a soft top. The soft top can easily be raised or lowered. This vehicle also a removable rear window. You will not only be able to enjoy the sunshine, but you will also be able to let some fresh air in.
The Jeep Wrangler allows you to get closer to nature. If you want to check out the exterior features and test drive this vehicle, then you can set up an appointment to test drive the vehicle.