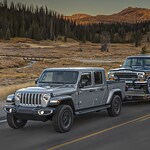 The Jeep Gladiator is quickly becoming one of the hottest new mid-size pickups on the market due to its rugged design and off-roading capabilities. Jeep has infused the Gladiator with its off-roading technology and bundled it up into a practical mid-size pick up that you can use to haul your equipment around Springfield, IL in.
One of the coolest features on the Gladiator is its ability to remove nearly every body panel quickly and easily. This allows you and your passengers to get up close and personal with your surroundings as you traverse any off-roading trails. The Gladiator also comes with Jeep's legendary 4X4 system as standard, which makes it a breeze to take on any rough terrain or weather.
If you are looking to get behind the wheel of the Jeep Gladiator, you can stop by our showroom at Landmark Chrysler Jeep Inc. Our team will be able to get you set up on a quick drive around town, and they can show you all of the rugged features the Gladiator comes with.